Gear - Canon Legria Mini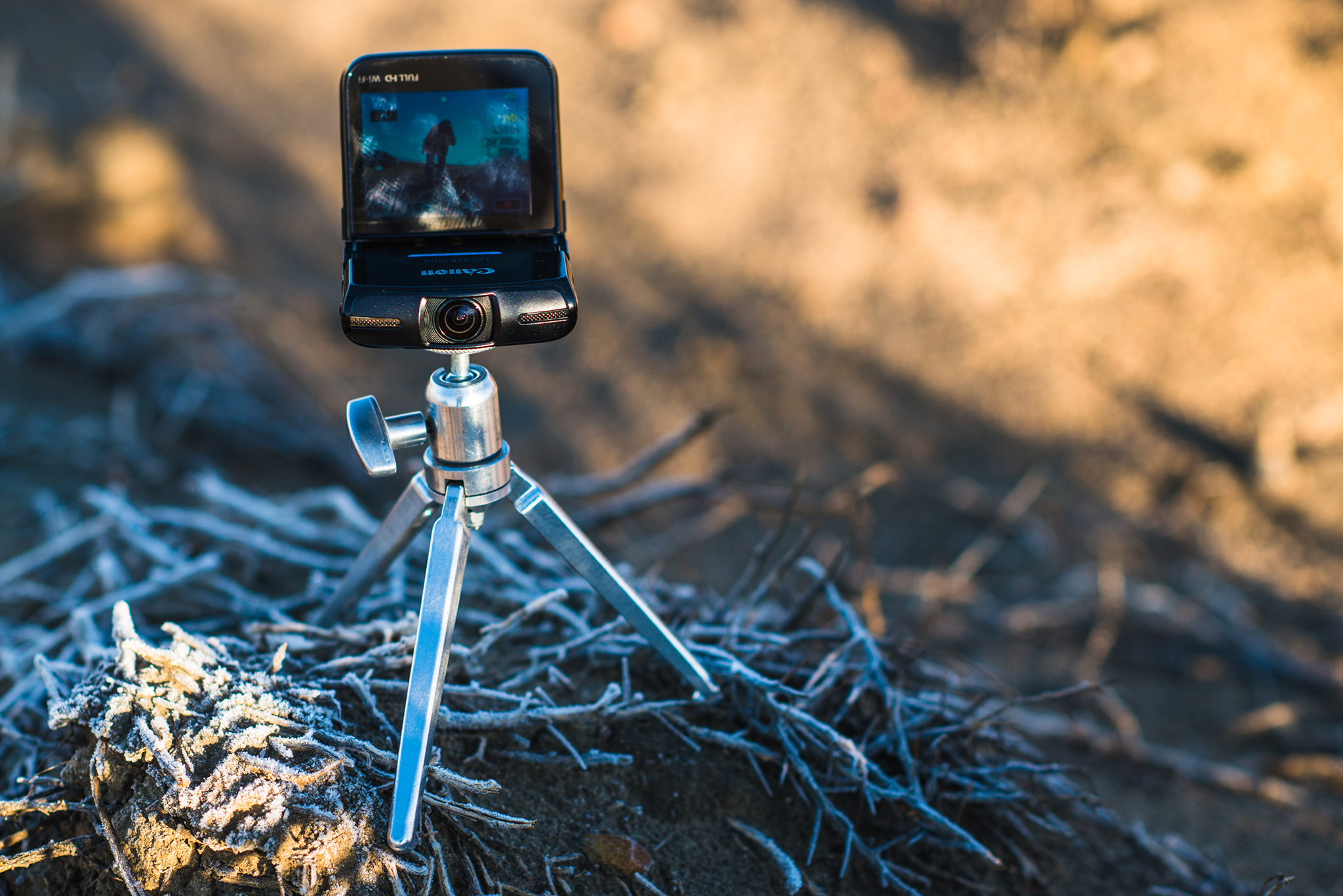 When Canon announced the Legria Mini a few month back, I was very skeptical. In a time where most mobile phones produce great video and we always have them with us, why would we need a dedicated video camera for blogging at home and on the go? Well... on the one hand because we might need our phones for so much more than just recording video. I mean they can be our voice recorder on productions, or being needed to read off your lines of them etc. etc. A lot of people use GoPros to shoot themselves, as the video quality is is great in good light, and it has a wide angle lens that makes it easy to frame the shot, even while holding the camera in your hand. The one thing that camera phones and GoPros have in common and which can be a disadvantage, you can't see yourself while recording (in the case of mobile phones I obviously think of using the back facing camera only, as the quality normally is so much better.)
So Canon has come up with a camera design to make recording yourself easier, but still providing a small formfactor. The housing is wide and flat with a foot on the bottom to adjust where the lens is pointing at while on a tabletop or floor and it even comes with a tripod mount on the bottom to use it with for example a Manfrotto 709BR or even full size tripods. The screen lays flat on top of the camera and I enjoyed using it in that position quite a bit... Felt a bit like looking down on my old Hassleblad or so and it is a bit more under the radar like that when for example using it in public. You can tilt up the screen to us it up to eyelevel and of course flip it over to see the screen when you shoot yourself.
It uses Micro SD cards which kinda makes sense, but they should have tried and fit a regular SD card in there in my opinion, that would have made handling it so much nicer and easier. Another thing I am not fond of very much is the menu, but that is another personal taste thing. One thing that really is bit of a problem though is the focal length of the Legria Mini. It makes a lot of sense to have a super wide angle lens in there, but this is a touch too super wide. It's hard to find a too many positions where you don't see massive distortion. There will always be distortion, but when you are recording yourself it would be great to have a little bit more space to play around with and having a straight horizon with landscape shots would be a nice touch too. A mechanical switch that gets a second lens infront of this super wide angle one, or the other way around, to get less distortion in would be so great (EDIT: the commenter below points out correctly, that you actually can switch the focal length to a 35mm equivalent from the extreme fish-eye, a point I overlooked as I do not believe in reading the manual on an occasion like this for functions like these. I am happy though that the camera does feature this and thanks for the comment, my bad.). My last complaint are the buttons to be honest and I am not sure if its me, the specific device I have or if there just is no way to get the hardware button to work as a start/stop button for recording instead of taking photos, but that is annoying. And it could be a bit more... tactile?! Just to be able to use it blind and quickly. Oh, I actually lied... my biggest problem with the camera actually is the startup time. From flicking the switch to being able to hit record, it just takes way to long.
Video quality is good when there is enough light, and as we are used to with smaller cameras there quality drops rapidly as it gets darker... GoPros, iPhones, etc... Which actually should not be an excuse, but then again it's a 1.0 model. For a 2.0 model I would love to see something more "innovative" plus a nice addition like a little LED ring around the lens. I know, it has been done here and there, but not by any major player yet... it obviously will not have a huge ringlight effect, but should be nice enough. And maybe even give it a bit bigger lens. We will have to wait and see what comes in 2.0, if ever, for now we have 1.0 and the question I see for myself... who is it for?!
I would say for video bloggers mostly who do not want to keep using their computers webcam all the time and have no use for a photocamera or big camcorder, this is the camera to get. Something small and "easy" to use. It also is a fun cam for BTS footage. put it on the floor, a cupoard or a tripod and record your photoshoots or whatever you do. Then again, if you look around a bit you can find different options with some different features, it comes down to a lot of variables. This is a very specific camera for a very specific kind of customer, so it might just work.
Oh by the way, I just graded the Video a bit differently from scene to scene, but did not sharpen or stabilize the footage.