photokina 2010 - over and out - content overload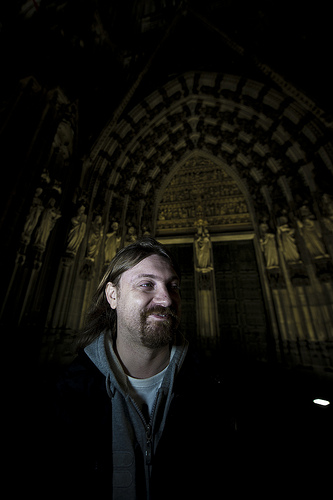 photokina 2010 is over for a few days and the aftermath is is kind of behind me now too. my good buddy marco from manfrotto has left cologne today and I am about to jump back into reality.
reality you ask, well... photokina this year was really surreal for me in a very positive way. first of all it was my first time being there for 7 days, then it was the first time being there with a company and then even a bigger one like manfrotto. more specifically I was there with the manfrotto school of xcellence, which you might already know by the website and the webinars so far, or at least by some of my posts and tweets. the school was not on photokina to only promote itself and to get people interested in it, but also to give something to interested photographers out there. so we had five extremely cool and amazing photographer at our booth ready to give portfolio reviews and do one on one workshops. you were able to book sessions before photokina and a lot of people did. actually we were fully booked. some people even booked sessions with every single of our photographers and others just did not show up, which really was a shame for those who did not get an appointment.
to get to our amazing line up of photographers I want to start with pulitzer price winner, sports illustrated staff photographer and extremely talented storyteller bill frakes. if you remember I was very lucky meeting him and his partner from straw hat visuals, laura heald, back in july in siena, italy. and it was great meeting them again and upon that watching bill on stage telling us about his career, how he is adapting video into his way of storytelling and showing us some of his work.
the next one in the amazing line up of photographers is no stranger to most of you either. the wonderful master of light, joe mcnally. you might remember the posts I did a while ago at his workshop in venice last year and of course his amazing books and blog. always great meeting him and also with joe it is a wonderful thing watching him presenting his stories and photos. I could have spent all my time in the manfrotto theater if these two would have been there all day.
unfortunately I did not find the time, nor did they have it to get a review of my portfolio, but there was another amazingly talented photographer with us that I look up to. the stunning drew gardner. not only is he extremely talented, but also very funny with a very specific style in photography. I am sure you have seen some of his work already and the word EPIC comes to mind quite instantly. it was just a blast meeting him. and I was very lucky he took the time in between reviews to go over a few of my shots with me. it was great! not that he was all in love with my work, but what he said about it and what and how I could improve was amazing and a great help! especially in his kind and still very honest way. thank you so very much for that!
here we come to someone now I have had on my radar for quite some time. as some might know I a big gearhead and I love photographing cars, I did not have the chance yet to put a lot of time into it, but I will. now even more than before. roberto biganos work with cars count to my most favorite of all time. and I have to honestly say, I do not think there is another living photographer at the moment that matches roberto. his work is defined through precision and an amazing eye for detail. roberto bigano is not "just" specialized in car photogrpahy, but also does a lot of still life-, art- and High reprophotography among other very highly specialized fields. he also was an amazing photogrpaher and person to meet. so very kind and funny. his workshop at the hasselblad booth just showed on location car photography at the highest level.
our fifth photographer at the booth was german panorama specialist and master uwe statz. I did not know a lot about uwe in the beginning and did look at more and more of his work and was amazed at what detail and precision he could produce what others often failed miserably at. he also as the four other photographers was a blast to spend time with! and make sure to check out the inside of his fridge... :-)
apart from these great photographers we also had a strong team working more behind the scenes. here also I was in a very lucky position to get to know and work with nicolai brix. photographer, fotojournalist and just a very kind person. he is a based in denmark and also member of the manfrotto school of xcellnce. him and me were set out to record a number of interviews and footage over the days of photokina. I am very happy we were not left alone with this task, not that we would not have managed, but as it was much more fluid and creative as we had help from belgian director, filmmaker, amazing photogrpaher and creative mastermind kristof ramon aka shades jarvis (more to come on that) aka kramon the magnificent. that not being enough laura heald of straw hat visuals helped us out with editing as poor nicolai also was our main DP and had to edit.
most of the results of this collaboration for the manfrotto school of xcellence you will see at the end of this blog post plus the coolest interview ever!
and just to prove how small the world really is... a buddy of mine calls me up a day or so before photokina telling me a friend of his from the states will be visiting him and also going to photokina as he is a photographer and that I should meet the guys and get to know joseph. as people know I am always looking forward to get to know new people, so I was looking forward to it. then, by chance we met the guys in a restaurant as we went for dinner with a group of our team. we introduced ourselves and I thought to myself... hm... I know this guy from somewhere, but it didn't dawn on me yet. so when we were leaving we exchanges business cards and phone numbers to meet up in the following days. back home I finally heard the click in my head and joseph linaschke aka travel_junkie suddenly had a place in my head. not only am I a great fan of his work and blog, but also enjoyed the TWIP episodes with him for some time. it was just unfortunate my schedule was so tight we couldn't really spend some time here in cologne, besides him actually being so nice and dropping by at the trade show floor to say hi. I am looing forward to a next time, anytime soon with more time :-)
what more can I say than that it was a great pleasure meeting the wonderful people of manfrotto and manfrotto distrobution, kata bags, lastolite and gitzo, from all over the world. just amazing how so many kind, fun and great people can be found so closely connected to each other. thank you!
and here we go with the video... more will follow and I will for sure post them here on the blog, but now we will start with the first ipad interview ever with two of the greatest photographer of our time... bill frakes and joe mcnally!
Bill Frakes and Joe McNally iPad Interview from Manfrotto on Vimeo.

Photokina Day 0..... Preparations from Manfrotto on Vimeo.

New Photo Support gear from Manfrotto from Manfrotto on Vimeo.

PhaseOne at Photokina 2010 from Manfrotto on Vimeo.

TIPA Awards 2010 from Manfrotto on Vimeo.

Kata at Photokina 2010 from Manfrotto on Vimeo.

Nikon at Photokina 2010 from Manfrotto on Vimeo.

Hasselblad at Photokina 2010 from Manfrotto on Vimeo.

Kodak at Photokina 2010 from Manfrotto on Vimeo.
.
and last but not least two videos shot and edited by bill frakes and laura heald with two of the great minds of manfrotto.
Fabio Prada - Manfrotto Bags from Manfrotto on Vimeo.
Paolo Frison - 504 HD Video Head from Manfrotto on Vimeo.
oh and you can find the rest of the photos in the two previous blog posts (and I might actually post some more in the coming days).
have a great week and all the best,
teymur.